The biggest game-changers often require the greatest commitments, so it's no secret that companies seeking to change software solutions need to do a lot of research before making a major change.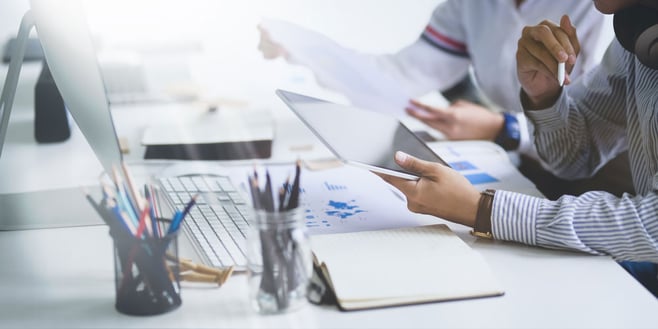 This is especially the case for companies looking to employ an electronic document management system or EDMS.
No matter if you're switching document management systems or if you're migrating out of spreadsheets or manual processes, it's important you have a timeline, realistic goals, and proper expectations for the results you want to experience.
Among the most important concerns for employing a new EDMS is ensuring a strong return on investment. Because your company needs to increase productivity and further your bottom line, an EDMS' ROI must be at the forefront of your mind as you research solutions.
In this blog, we'll identify the keys to ensuring your new EDMS solution will successfully boost your ROI.
How Valuable Are Document Management Systems & How Does It Boost Your Company's ROI?
As with all software purchases, the subsequent effects on business profitability are both tangible and intangible. That is, there are direct savings and indirect benefits to employing an EDMS for your company's technical documentation. Let's explore what these look like:
Direct and Tangible:
When you look at the cost of document management systems, there are 2 things to consider.
The first is the initial cost and the second is the monthly cost. These will vary depending on the EDMS you choose.
When looking at direct costs and the return-on-investment, it's important to factor in which expenses will be replaced by the new EDMS.
In other words, if a single EDMS can take the place of 3-4 pieces of existing software, that's an affordability aspect that should be considered—not only for the cost savings but also from an efficiency and productivity perspective.
Indirect and Intangible:
When an employee saves time in one area—thanks to the ease of their new EDMS—this person is able to spend those hours working elsewhere.
This is how indirect and intangible savings are determined: from the transference of value.
If the new EDMS frees an employee 2 hours a week of work time, this equates to a value of 2 hours' worth of work gained from the switch. If that employee makes $50 an hour, that becomes $100 saved or reinvested into other efforts within the company.
Extrapolate this idea out to several employees over a longer period of time and you're looking at tens of thousands of dollars of added value.
While this is insightful information, you're probably asking yourself, "How long will it take to see this kind of return-on-investment at my company?" This is an answer that will vary depending on the existing costs and price of your new software. An ideal EDMS should realize results quickly and efficiently, and within 6-18 months.
Discover the Best Document Management System
When you're ready to experience this kind of ROI, along with immediate time-savings for your team, investigate the power and capabilities of Proarc.
Proarc is the proven Engineering Document Management Solution to reduce the lead time of documentation deliveries in engineering & construction projects and asset operations. Proarc clients often see an ROI occur within just 6-18 months. The best part is, Proarc is customizable and quick to implement, which means you only pay for the solutions you need and you can be up and running in time to utilize a superior EDMS for your next project.
Experience the control you need over technical documentation immediately. Check out Proarc's pricing options to discover what solution works best for your company or schedule a call with us today!