Though technology has rapidly advanced in the last decade, the common challenge of document control and management persists in engineering and construction projects. As project collaboration tools increase in number and capability, the global reach of our companies and supply chains creates a challenge – how to standardize, streamline, and consolidate collaboration around a single solution?
This is especially true in mega projects that require many dispersed parties to coordinate activities and communication. In this environment, collaboration becomes even more complicated, particularly when it comes to document control.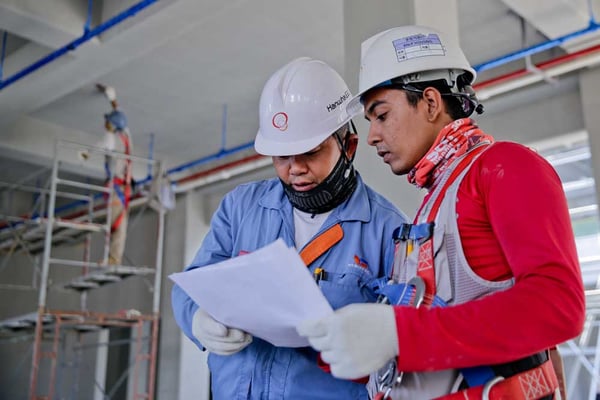 For example, in capital construction, it's possible more than 100 contractors can be involved in a single project, each with their own unique contribution. These kinds of projects make efficient collaboration vital in order for everyone to achieve a successful project. When poor communication persists in a project, poor results are inevitable.
The Challenge of Project Collaboration
The exchange of LCI (lifecycle information) such as technical information and documentation with external users.
One common challenge within collaboration may be a surprising one--email. Email is often used to exchange critical project information such as documents, LCI data, and comments. Email has become so ingrained in both our professional and personal lives, that it's second nature for us to choose it as a mode of communication.
However, within a large project, email messages are easily and often lost. Email chains are cumbersome, and sometimes, the latest version of shared documents are difficult to locate. Because email can only be viewed by the recipients the message is sent to, it's likely team members may get excluded from important information on accident.
Furthermore, document sharing itself is complicated when it comes to email. Email servers usually limit the size of the document shared, meaning some documents may be too large to send at all. In addition, the use of email usually requires manual operations to import or export documents, LCI data and comments from and to your document management solution.
It's also difficult to efficiently view comments on shared documents and other information through email. Each team member's comment would need to be sent through a different message, which isn't the optimal way to view the feedback as a whole. Using the mode of communication, maintaining compliance is a challenge.
Overall, poor communication and documentation exchange within projects results in loss of control. Your company can't afford the unnecessary and avoidable risks associated with inefficient project collaboration tools.
The Solution for Project Collaboration
Engineering Document Management Systems (EDMS) such as Proarc help you overcome these challenges with project collaboration tools designed to streamline the communication and exchange of technical information with vendors, partners, and clients.
How? By allowing everyone to work in the same solution and same data environment.
With Proarc, you can invite external companies to collaborate in a secure web portal, instead of using email. Grant access to workflows & tasks and all the project documentation and information.
This allows you to better integrate external companies into your processes for review, approvals and comment handling, which drastically reduces manual operations and increases the quality of the documentation and information exchange process.
Automating this process will reduce the amount off errors and excess documentation reviews. By working in the same solution, you will also have a complete audit trail and security control. Finally, you will be equipping external users on your project with tools to help them work more efficiently.
Proarc offers a better, more professional solution to customers by allowing them to work and collaborate in the same solution - all within an environment that offers more control of the data, documentation, and communication. No matter your role on a project, Proarc has solutions specifically crafted to help you collaborate and document your work with confidence.